Broadband Reference Horn Antenna
Diamond Engineering has spent the last decade pioneering our broadband reference horn antennas, ensuring they're capable of consistent gain across wide frequency ranges, eliminating the need to purchase several different antennas.  For example, the DE0540 replaces three standard gain horns making it ideal for antenna characterization. Combining well established antenna design theory in combination with extensive R&D and material testing has produced fantastic results.
The special dielectric cone is where the magic happens – it controls the beamwidth and associated gain.  This digitally optimized lens dramatically improves beam profile and gain. The Diamond Engineering reference horn antenna can be used for measurement and/or super broadband communications.  The wide band operation is well suited for material measurements, time domain and RCS measurements. The excellent match and monotonic gain provide a unique combination of application and performance. Higher low band gain is an available option using a 60 cm ground plane.
These antenna can also likely be tailored to your specific needs by utilizing various lenses.  The lens system is designed for aperture frequency gain characteristics (i.e. gain increases with frequency). When used in communications, the gain compensates cable and device frequency losses. The output terminals of the DE0540 are ∞ ohms.
A special modification can be utilized so that the terminal impedance is 50 ohm from DC through 40GHz. This makes it possible to use a single ended amplifier stage for ultra-low noise operation which eliminates the balanced, more costly LNA.  Please see more detailed information below on the various models we offer.
Educational discounts are available for students, teachers or staff of universities or technical schools.
Key Features & Functions
500 MHz to 50 GHz (model dependent)
Linear Polarization
Rx & Tx of 50 watts
K connector
VSWR: 1.5:1 typ
Highlights
Light (only 4 pounds!) and easy to handle
Laser boresight to simplify aiming
Consistent 20+ dBi gain at 20 GHz+
What's Included?
The standard D6050 package features:
Broadband Reference Antenna
Mounting bracket & hardware
Instruction manual
Specifications
Technical Details
| | |
| --- | --- |
| Pattern type | Directional |
| Polarization | Linear |
| Nominal Frequency Range | 500 MHz to 40 GHz |
| Usable Frequency Range | 300 MHz to 50 GHz |
| Isotropic Gain | 3dB typical |
| Antenna Factor | 50 typical |
| Nominal Impedence | 50 ohm |
| Standing Wae Ratio SWR | 2:1 typical |
| 3dB Beamwidth (E-Plane) | 10° @ 20 GHz |
| 3dB Beamwidth (H-Plane) | 12° @ 20 GHz |
| Max Input Power | 1 watt |
| Connector type | 2.92mm (K connector) |
Physical Dimensions
| | |
| --- | --- |
| Height | 14.5" (368.3 mm) |
| Width | 14.5" (368.3 mm) |
| Depth | 16.5" (413.1 mm) |
| Weight | 4.5 pounds (2 kg) |
Typical Profiles
Typical Gain
VSWR for AZ-EL (0,0) plus normalized beamwidth profiles
 
E-Plane & H-Plane Profiles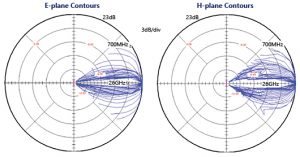 Typical 3dB Beam Profiles (700 MHz to 40 GHz)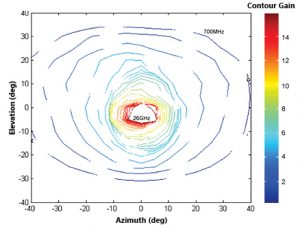 Antenna Factor Plot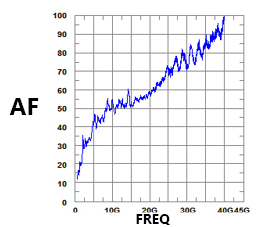 Standard Models
| | |
| --- | --- |
| DE0518 | 500 MHz - 18 GHz |
| DE0526 | 500 MHz - 26 GHz |
| DE0530 | 500 MHz - 30 GHz |
| DE0540 | 500 MHz - 40 GHz |
Additional models not listed may be available.  Please click below to request a quote.
Quote Request
Options
Laser boresight accessory (to further assist aiming)
Carbon fiber tripod
RPT Positioning Tower (eliminates need for tripod)
Custom Pelican-style carrying case (for safe keeping)
1 sq. ft. aluminum back plane (to increase gain)
[icon icon="fa fa-handshake-o" position="icon-left" icon_size="50″ title="Customer Support"]Diamond Engineering takes great pride in providing top-notch customer and technical support.  If you are having any issues with your system, we welcome you contact us directly.  We can walk you through or suggest solutions to any issues you may have.
Please don't hesitate to contact us.[/icon]
[icon icon="fa fa-book" position="icon-left" icon_size="50″ title="Microwave Library"]If you have not already reviewed the materials in the Microwave Library, we encourage you to.  There you will find numerous application notes detailing how to accomplish many types of tasks.
To visit the Microwave Library, click here.[/icon]
NEW: Custom Pelican Case for Horn
Diamond Engineering now offers a custom pelican case to ensure your horn can be transported and stored safely.  For more information, please contact us or request a quote.