DE04-2 Multi-Axis Automated Reference Frame
Basic Usage
The DE04-2 Reference frame system is designed for mounting a reference antenna, a device under test (DUT) or materials under test (MUT). The frame can be moved on the Z-Axis (horizontal in reference to positioner) or rotated on the azimuth axis a full 360 degrees.
Mirror Method Usage
When the 4-foot reference mirror option is installed, single antenna real-time vector S-Parameter gain measurements may be performed using Diamond Engineering's proprietary software algorithm. This methodology has been shown to be more accurate and much faster than the traditional 3-point method. This method involves simple S11 measurements. Expensive VNAs are not required for this method of antenna calibration (only a low-cost single-port VNA is necessary). 1-meter and 3-meter measurements (or anything between) become trivial.
The mirror plane is made parallel using a laser and an optically flat mirror. Can also accommodate material for measurement from 1 to 4 sq. ft using Diamond Engineering's Material Measurement Software (as shown below).
Educational discounts are available for students, teachers or staff of universities or technical schools.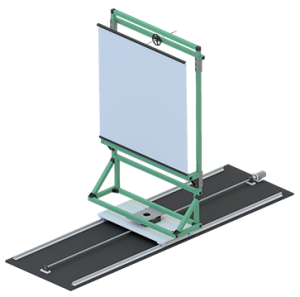 Key Features & Functions
Easy single antenna measurements
Material measurements
Reference probe positioning
Phase center measurements
Spherical near field
Highlights
Multiple configuration options
Ultra-high precision (up to 0.02º)
Ideal for large chambers
What's Included?
The standard DE04-2 package features:
2-axis positioner with tilt
Software control
Power supply
DUT mounting hardware
Tools and documentation
3-year warranty
DE04-2 Specifications
| | |
| --- | --- |
| Physical | |
| Dimensions | |
| Footprint: | 120" x 36" (305 cm x 91.5 cm) |
| Total Height: | 84" (213 cm) |
| Total Width: | 48" (122 cm) |
| Total Weight: | 150 lbs (44.9 kg) |
| Capabilities | |
| Frame payload: | Up to 50 pounds (22.7 kg) |
| Positioner payload: | Up to 100 pounds (45.4 kg) |
| Minimum MUT / DUT: | 12" x 12" (30.5 cm x 30.5 cm) |
| Maximum MUT / DUT: | 48" x 48" (122 cm x 122 cm) |
| Composition | |
| Frame: | Fiberglass, PLA, acrylic, garolite, nylon |
| Linear axis: | Wood base with hardened steel linear rail bearings |
| Rotary axis: | Aluminum, brass, steel |
| | |
| Motion | |
| Linear Axis | |
| Total travel: | 7.25 feet (2.2 m) |
| Drivetrain: | Linear ball screw with NEMA 23 closed-loop stepper motor |
| Resolution | 2 mm |
| Maximum speed: | 40 in/sec (100 cm/sec) |
| Minimum speed: | 0.4 in/sec (0.1 cm/sec) |
| Rotary Axis | |
| Range: | Continuous azimuth (limited to +/- 360º w/ cable pass-through) |
| Resolution: | 0.25º |
| Pass-through diameter: | 3 inches (75 mm ) |
| Drivetrain: | Precision worm gear with NEMA 23 stepper motor |
| Maximum speed: | 60 deg/sec |
| Minimum speed: | 1 deg/sec |
| Mounting Tilt | |
| Range: | +/- 10º (from 80º to 90º) |
| | |
| External Control Pendant | |
| Cable length: | 24 feet (7.25 meters) |
| Display type: | 2-line LCD |
| Display monitoring: | Axis position and status |
| Movement resolution: | 0.55 mm to 10 mm per increment |
| Power: | Powered via control cable |
| Weight: | 8 oz (0.25 kg) |
Standard Models
| | |
| --- | --- |
| DE04-2 | Standard reference frame, no accessories |
| DE04-2-MIRROR | Mirror kit w DAMS Antenna Measurement Suite |
| DE04-2-ABS | Absorber kit |
| DE04-2-FOAM | Foam pedestal w/ delrin mounting rod (user specified specs) |
Options
| | |
| --- | --- |
| OPT-ENC | Encoder feedback capability |
| DPA-PDK | DAMS Platform Development Kit |
| OPT-SMA | Software maintenance agreement |
Accessories
| | |
| --- | --- |
| DEPC-D | Pre-configured PC (desktop) |
| DEPC-L | Pre-configured PC (laptop) |
| DE-SIM | DAMS Antenna & Network Simulator software add-on |
| DPA-SW-N2F | Spherical nearfield processing |
| DPA-AUTOPOL | 18 GHz SPDT RF switch auto-polarizer with cables/adapters |
| DPA-AUTOPOL-40 | 40 GHz SPDT RF switch auto-polarizer with cables/adapters |
| DE-05xx | Broadband reference horn 500 MHz to 18, 26, 30 or 40 GHz |
| DE-07xx | Broadband reference horn 700 MHz to 18, 26, 30 or 40 GHz |
Product documents

  DE04-2 Series Datasheet

  DE04-2 Series Installation Manual (coming soon)

  DAMS Software Suite Manual

  Diamond Engineering Products Brochure
Should you need any assistance, please contact support@DiamondEng.net or call us at 530-626-3857
Frequently Purchased Together
USB/Ethernet RF Switch Matrix with SMA connectors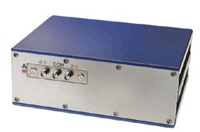 • Mechanical SPDT switch box
• High reliability, 10 million switch cycles
• 20W power rating (cold switching)
• High isolation, 85 dB typical
Broadband Reference Antenna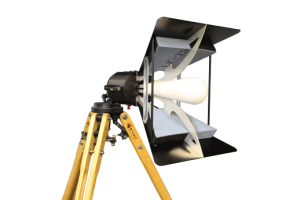 500 MHz to 40 GHz
Consistent 50 ohm impedance
50W Rx/Tx power
Milimeter Wave Guide Upgrade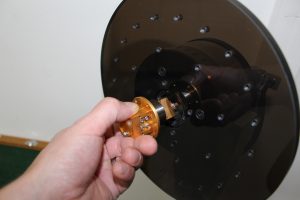 Much lower losses vs coax
Minimizes outside RF interference
Excellent for higher frequencies
Higher power handling capacity